Shraddha Kapoor-Shakti Kapoor Bonding: The second wave of corona in the country is now starting to weaken and with this unlocking has started across the country. In this sequence, there are reports of the shooting of Bollywood films that have been stuck for a long time. Recently news has come that the shooting of filmmaker Luv Ranjan's upcoming film is going to start soon. In this film, Shraddha Kapoor and Ranbir Kapoor are going to be seen in the lead roles. However, the name of this Luv Ranjan film has not been decided yet, but Ranbir and Shraddha have left for Delhi to shoot the film, both of whom have been seen at the Mumbai airport.
Before going to the shooting, Shraddha Kapoor has shared some posts on social media which are becoming quite viral. All these posts have been shared by Shraddha as an Instagram story. In one such post, Shraddha shared a picture of her pet dog and wrote that 'the most difficult goodbye', along with this post, Shraddha has also shared a crying emoji. At the same time, in the second Instagram story shared by Shraddha, you can see Shakti Kapoor who has come to the airport to drop her daughter.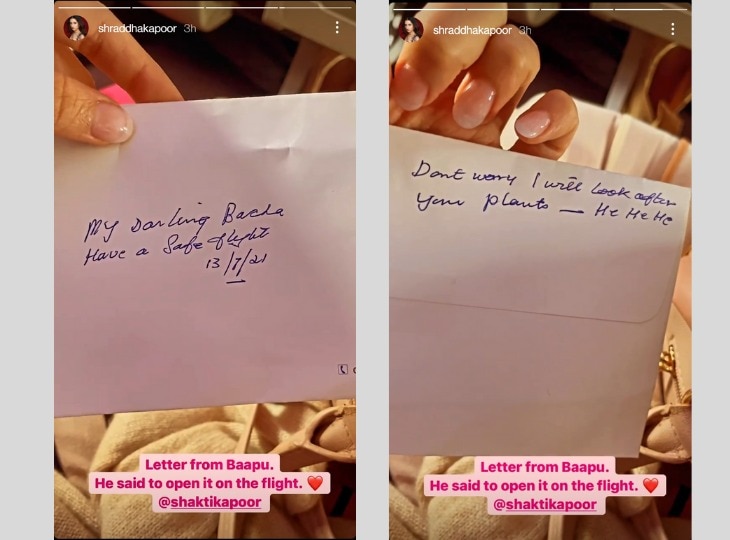 With this picture, Shraddha Kapoor has given the caption 'Bapu has come to drop me at the airport' Shraddha has also shared a heart shape emoji with this post. At the same time, the third Insta story shared by the actress is very emotional. In this last Insta story, Shraddha has shared a note written by her father. Shakti Kapoor had told the daughter that when you sit in the plane, then open this letter, Shraddha did the same. Shakti Kapoor has written for the daughter in this note, 'Don't worry, I will take care of your plants…hihihi'.
read this also :
1300 crores property and 90 crores luxurious house, South Superstar Ram Charan Teja lives such a luxurious life
South's top actresses are not behind Hero, Anushka Shetty to Nayanthara has fees in crores