Gabriella Demetriades Body Shaming: Actor Arjun Rampal's girlfriend Gabriella Demetriades is in the headlines due to her recent statement. It is reported that Gabriella Demetriades had to face body shaming at one time. Actually, during the 'Ask Me Anything' session on Instagram, a user asked Gabriella if you ever had to struggle with body confidence or image? In response to this question, Gabriella said, 'The fashion industry was not as diverse as it is today. I was told that I am not tall, my hips are too big and my thighs are fat'.
Gabriella's gesture was towards body shaming. Let us tell you that during the 'Ask Me Anything' session on Instagram, users had also asked Gabriella the secret of her glowing skin, in response she said, 'Distance from alcohol, plenty of sleep and regular exercise is the secret of my glowing skin. Although due to pregnancy, at present I have a little pigmentation in the skin. At the same time, another funny incident happened during this session, a user asked Gabriella to adopt his son Eric, to which Gabriella replied, 'No, I am crazy for him'.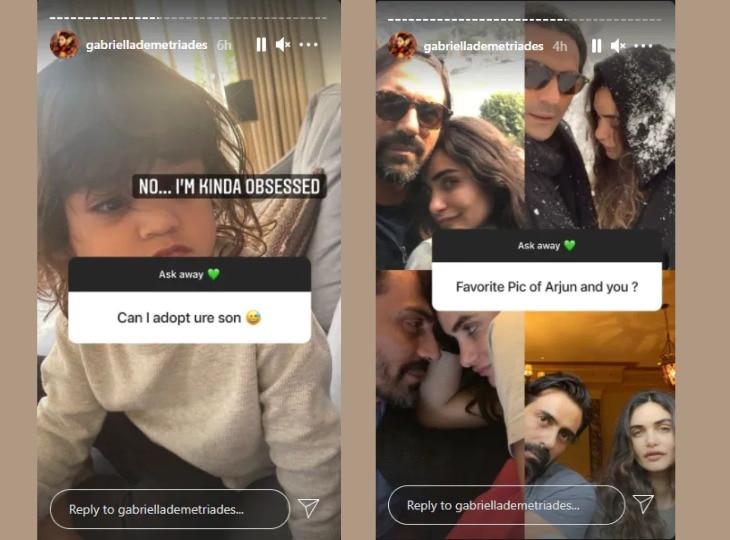 During the 'Ask Me Anything' session, users also demanded Gabriella to share the most memorable photos of her and Arjun, in response to which Gabriella shared a collage of her and Arjun's photos. Let us tell you that Arjun and Gabriella are live-in partners and both became parents in the year 2019. Talking about Arjun Rampal's film career, the actor is currently in Budapest in connection with the shooting of the film 'Dhaakad'.
read this also-
Old tweets are going viral after the arrest of Raj Kundra, Shilpa Shetty's husband wrote such things about porn
From flat in Burj Khalifa to Lamborghini, Raj Kundra gave many expensive gifts to Shilpa Shetty